Collaborate for the best results
---
Earn extra income income and provide optimal service for your customers, by offering them digital signage.
Whether you want to outsource the screens, software, installation and content or prefer to offer it to your customer yourself, we have everything in house to completely unburden and / or support you.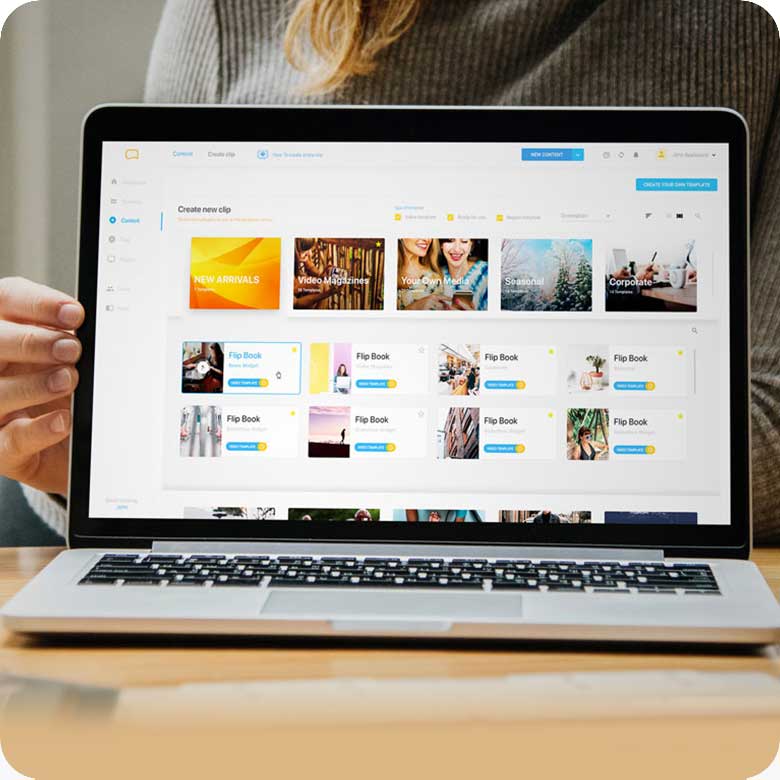 Depending on the level of digital signage focus for your company, we have various options for you to choose from: EASY, STANDARD, PREMIUM: From full support to completely independent .
---
Easy package
---
We take full control of the work.
---
You're super busy with your own products and services, and you want to find a partner to manage the digital signage requests you receive from your customers.
---
You can either put your interested party in direct contact with us or discuss an offer drawn up by us. If the relationship becomes a customer?
---
You'll receive a commission from the sale! As soon as it's confirmed we'll take over the work and contact from you so you can get back to focusing on your core business activity.
---
Full support
Even greater diversity in your portfoilio
One-off commission on contract
No need to worry
---
Standard package
---
Act independently with strong support.
---
You see a lot of potential with digital signage; it's important to you and you want to include digital signage as a key component of your portfolio.
---
You want to maintain customer contact yourself, not only during the initial order, but also supporting customer queries and questions about use and technology.
---
You have a person or team with the capability and capacity to independently answer customer questions and you want to become proficient in the platform for future customers you introduce to the platform.

You have a person or team that can answer customer questions independently and you want to become proficient in the platform for future customers you want to bring to the platform.
---
Include digital signage as a a core component of your product portfolio
Provide support to the customer ourselves
Also make turnover and margin on customer renewals
A team that supports you with training and second-line support
Access to our support
Use of the partner panel
---
Premium package
---
Independent with our technological heart.
---
You work for a large company and see digital signage as a core product to offer to your extensive customer base.
---
You have a large team and everything you need to train clients and provide a full service including all aspects of support, installation, screens and content.
---
You want to launch your own brand digital signage into the market and sell it to your existing customers at your own terms and prices.
---
Include digital signage as a core product within your portfolio
Create prizes and combinations with other services
Develop turnover and margin that extends to renewals
Provide the customer support function yourselves
Maintain access to our support team
Our team supports you with training and provides second-line support
Use of the partner panel
---
---
Call now for
more information
The Netherlands
Email: sales@signagecontrol.com
Telephone: +31 (0)88-4260500
Spain
Email: ventas@signagecontrol.com
Telephone: (+34) 93 007 18 67

Support training
Easy, low-threshold training to get you up and running quickly and starting to recruit customers. We'll walk you through the CMS by phone in about an hour to ensure you grasp all the ins and outs. After that you should be able to do it yourself! If, however, there is anything you find you're not sure about or you don't quite understand - no problem simply contact us again and we'll be happy to go through it with you.
---

Self support
Answers to most questions can be found in our online knowledgebase including answers to the most frequently asked questions, plus easy to follow manuals and instructional videos. See http://support.cms-ds.com.
---

Service Center
If you can't find a solution in the existing documentation, you are welcome to contact our Service Center. We'll help you to find a solution to the problem that you can then share with your customers.
---

Software releases and upgrades
Partners receive monthly newsletters in which, we inform you of all the latest software and feature updates.
---
Let's get our collaboration off to a flying start!
---
We have a number of great surprises in store for you including a promotional package and other incentives!
Need to brainstorm on a project? Let us know how we can help. Need some free advice, just ask!
---